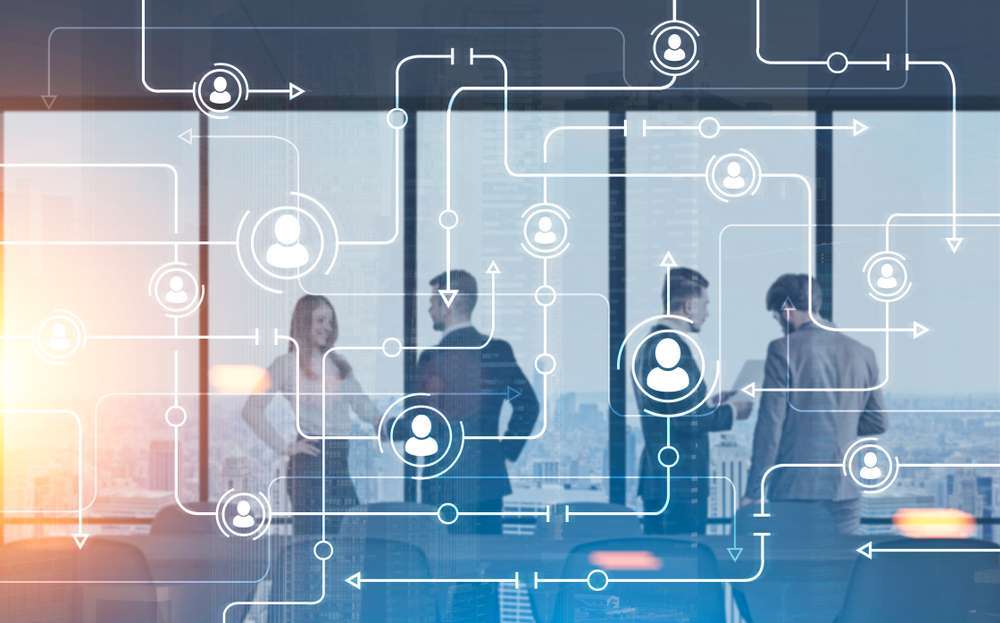 If we have to talk about the pioneering technology that's bringing in a great impact in almost all the industries, that will be Blockchain!
Blockchain has become the most promising technology that no tech giant would want to move away from it. The top companies are utilizing blockchain technology to the fullest. They brought it into the mainstream since the evolution of bitcoin.

We've listed below, the top firms that are leading in empowering their products and services with blockchain technology. Take a glance at the list of enterprises embracing the blockchain technology underlying cryptocurrencies to improve the efficiency and revenue of their businesses.
Visa

Industry: Bank and Finance

Visa has embraced blockchain technology and digital currency in no time. The company believed that the blockchain was no longer a choice anymore but a mandatory one to go through.
Visa has advanced in digital currencies and the implementation of blockchain technology over the years.

Visa B2B Connect was built upon Chain Core blockchain infrastructure to process global B2B payments that are faster, secure, transparent, and significantly cost-effective. Later, it has partnered with BLT Group to explore BLT's cross-border settlement platform Interbit. The company is still adopting blockchain to offer compelling digital payment and wallet solutions to consumers.
Coinbase

Industry: Fintech

Coinbase is the USA's largest cryptocurrency exchange firm, with more than 43 million individual accounts in 100+ countries. The company allows users to buy and sell cryptocurrency quickly with recurring buys and vault protection. Since 2012, Coinbase has witnessed around $150 billion exchanges by more than 20 million people.

While Coinbase was already authorized to issue debit cards that allow users to spend their cryptocurrency to withdraw cash from ATMs (anywhere the Visa was accepted). In February 2020, the Coinbase base was granted authority to issue its own credit cards from Visa.

De Beers

Industry: Supply Chain / Mining and Trading of Diamonds

Had De Beers just ended the blood diamonds? The company uses blockchain technology in the supply chain. De Beers' software Tracr ensures that the diamonds have undergone 3-D scan, gems are mined, cut, polished, and sold. So consumers can track the diamonds from the mining stage to the retail store.

De Beers made the diamonds more precious!
Pfizer

Industry: Healthcare

Pfizer is yet another company that is pretty much-using blockchain technology. The Clinical Supply Blockchain Working Group (CSBWG), a Pfizer and Biogen-led organization, has completed proof of concept (POC) for tracking records and managing the digital inventory in the pharmaceutical clinical supply chain.

The group also boasts top players names including GlaxoSmithKline, AstraZeneca, Merck, and Deloitte.

AIA Group

Industry: Insurance

AIA Group is one of the largest companies using blockchain technology to improve the insurance sector. In collaboration with other banks, the company launched a blockchain-enabled bancassurance solution to share documentation, policy data in real-time by using secured channels. The blockchain-powered solution also improves the customer experience, transparency, and security with reduced processing time.
Amazon

Industry: Cloud Computing, E-Commerce

The behemoth, Amazon Web Services by Amazon offers blockchain tools for companies. For instance, Nestlé used Amazon's blockchain product to launch a new coffee brand, "Chain of Origin." By this, consumers can get access to the coffee's supply chain. Also, one can scan a QR code to know which farm the beans were planted and roasted.
Sony Music Japan, BMW, Accenture, and South Korean Craft Brewery Jinju Beer are also the clients of Amazon's blockchain technology.
Siemens

Industry: Energy

Siemens is investing in blockchain technology to innovate the energy sector and expand the power generation services. The company is in the process of building more sustainable energy systems as well.
Singapore Airlines

Industry: Travel

The well-known Singapore Airlines is already utilizing blockchain technology to offer the best offers to its customers. The firm is using KrisPay to out forward several promotions to their loyal customers. Thus, customers can sign up for the program by installing their application.
Brookfield Asset Management

Industry: Real Estate

It is yet another company in the real estate industry that's using blockchain technology to integrate it into their services and reduce the transaction costs by automating the contacts.
Conclusion

The world's leading firms, such as Facebook, Google, Ripple, etc., are already empowering their products and services to streamline and strengthen their customer solutions. Disruptive technology is growing and will be the mainstream of all the big firms by no surprise.