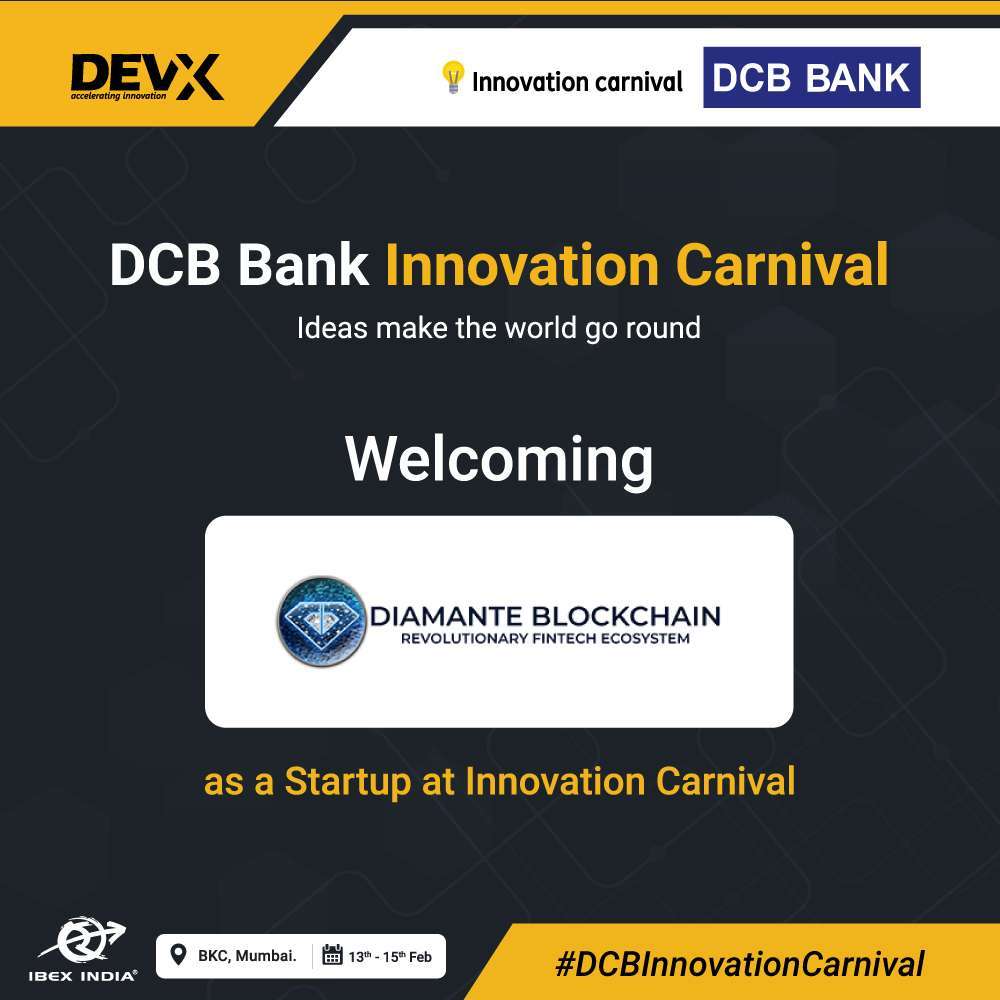 Diamante takes the winner's position at the DCB Bank Innovation Carnival innovative technology exhibit during the IBEX INDIA 2020 Expo, Mumbai.

LENEXA, KANSAS FEBRUARY 25, 2020 Diamante Blockchain wins big at DCB Bank Innovation Carnival, held during the International Banking Expo IBEX INDIA 2020. The startup claimed the winner's position at Innovation Carnival by showcasing its revolutionary Blockchain-based diamond supply chain in-front of the jury members. This success adds Diamante Blockchain into the list of startups that will compete at the main Innovation Carnival event, scheduled for August 2020.
Sharing his experience, Chirag Jetani, Co-Founder and COO of Diamante commented, "IBEX INDIA is one of the most anticipated events of the year that offers a platform for Fintechs to showcase their innovations in front of the bankers and potential investors in the financial sector. We are elated at the acknowledgment received from DCB Bank through their Innovation Carnival and look forward to the last leg of the competition in August."
IBEX India 2020
This year marked the 8th edition of IBEX India (International Trade Fair and Conference on Banking Technology, Equipment and Services). The Expo was held from 13th to 15th February in Mumbai.
Since 2011, IBEX INDIA has served as a platform to unite technological innovations with the banking sector, spearheading the cause of Fintech evolution. The event brings together technology innovators, banking professionals, regulators and investors all under one roof. The continued success of this event owes its support from the esteemed advisory committee comprising of senior bankers from leading Public and Private Sector Banks.
For the past 7 years, IBEX INDIA has connected around six hundred technology companies with more than eighteen thousand BFSI professionals hailing from India and South Asia.
The Expo consists of a Trade Show and Conference, offering a demonstrative platform to technology companies and Fintech startups.
DCB Bank Innovation Carnival
DCB has been one of the frontrunners in the banking sector, fervently supporting the Fintech R ji evolution. The Innovation Carnival is just one of their attempts to bridge the gap between technology and financial services.
DCB offers a platform to students, domain experts, developers, and startups to exhibit their innovative technological solutions in Fintech including Blockchain, IoT, Digital Payments, AI, Automation, etc. Spanning across multiple cities, the exhibit aims to harness the power of new technologies to optimize the existing operational architecture of the financial sector.
An internal program of the DCB Bank, Innovation Carnival focuses on innovative technologies related to lending, trading, investing, risk management, retail banking, Big Data, mobile payments, regulatory compliance, enterprise social and security.
About Diamante Blockchain:
Diamante is a Fintech company that focuses on leveraging Blockchain technology to create a dedicated, universal diamond ecosystem, ensuring full security and establishing concrete trust in, for trade, payments, financing, and controls. Diamante seeks to provide its clients and members with an effective and entrusted supply chain management system that is the epitome of consistency, security, and cost-effectiveness throughout the value chain.
Diamante Blockchain LLC, the USA-based diamond consortium comprises of every part of the industry from mining to retail. Built on Distributed Ledger Technology, Diamante Blockchain Consortium promises authenticity, assured quality, and privacy in trade and transactions within its network.