Michele Zilocchi, CEO-Manager of Digital Service and Consult says "Learn, improve, impact!"
He got his M.Eng. in Chemical Engineer and worked a couple of years as a project/field engineer in Biogas Plants Construction. In the meanwhile, he was developing two projects in the microalgae area. Later on, inspired by a group of experienced entrepreneurs, he entered the cryptocurrency space. He had been into trading and mining development and then started growing the number of my activities with the advisory in start-ups. He had been very much focused on the launch of Early Stage start-ups in the crypto-space, helping them in the way to market or with the integration of crypto-related infrastructures. He is keen on tokenization, metaverse, NFT integrations, and blockchain applications.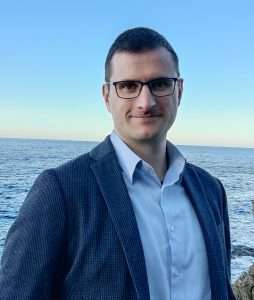 "The beginning is the limit for a large number of people." I am curious to know the beginning of your journey to becoming a cryptocurrency professional.
My first job had been as a chemical engineer but, since I was a kid, I was taught to never be satisfied with what I got. Being satisfied is different from being happy. I am very frequently happy with targets I reach but I always try to get one step further. A direct sale experience
allowed me to create several connections with entrepreneurs. I got so introduced to a group of entrepreneurs who were developing a small investment fund in the UK. I started from some mathematical modeling of business arriving then to dedicate most part of my time
to the development of crypto-businesses. I started this second working journey of my life in 2017 and I am really happy with what it's bringing to me.
As a daily trader, what do you think about the current trend in the cryptocurrency space?
In my opinion, we are still in a bullish market, with some liquidations that occurred to create liquidity and keep moving upwards the price of Bitcoin. Anyway, I feel that cryptocurrencies are more and more used by people as a tool to send/spend money, as a form of Store of Value, as a way to send money internationally with low fees. Beyond these, technological applications like Blockchain, tokenization, and NFTs are representing huge innovations and moves towards a more fluid future.
Being an ICO advisor and reviewer, what do you think the future of ICOs and IDOs is going to be like? Other than these, do you see any other exceptional trends in exchange for listing a new token?
ICOs and IDOs are definitely another huge trends at this moment and as far as I see, most parts of them are aimed at metaverse solutions and integrations. Exchanges always make due diligence on the token before its listing: for them, it's a matter of reputation. Anyway, even
Binance got a bad choice with Centra token some years ago, meaning that no due diligence is infallible. The first choice that rising ICOs/IDOs offer now is a seed round, private sale, and public sale, often carried out through a DEX.
The trend I am seeing is that now, rising projects are demanding less money, in a more sustainable entrepreneurial approach.
An Engineer, Entrepreneur, Crypto Expert, ICO Advisor – you are totally a multi-faceted personality. How do you manage between all these and what's your suggestion to the young and aspiring minds like you?
Thanks for such a definition! Being an engineer is usually a way of thinking and a way of approaching problems. So it's not anymore about working as an engineer but it's working LIKE an engineer. Having almost 10 years of entrepreneurial activities gave me the right boost to be able to help crypto projects in their success. And here it comes my suggestion: when I resigned from my 9-5 engineer job, I got a lot of complaints from people telling me I was a fool. Well, I understood that seeing the degree as an arrival rather than a new starting point was for fooler people than me.
2021 was called after NFTs and Cryptos and so experts suggest 2022 as the year of DAO (Decentralized Autonomous Organization). I'm very much curious to hear your thoughts on 2022 being the year of DAO.
Well, cryptocurrencies are not like clothes collections, they do not really have yearly cycles. 2021 has been the year of the confirmation of NFT trend into the market but 2022 is still going to be plenty of them and their huge applications to metaverses. Anyway, I think that 2021 will start spreading DAOs across the market and DAOs are less attractive for retail speculators since they require involvement and acknowledgment of what is going on to request votes from voters.
So how much free time do you usually have and how do you prefer to spend your free time?
I have to say that I love what I do and I am working a lot to get better at what I do. I am actively practicing yoga and in my free time, especially on the weekends, I like going trekking in nature and meeting friends with common passions.
It's a wrap-up: Learn, improve, impact!