Diego Valdez is well-known in the entertainment world and considered a trendsetter on social media. He is a worldwide Celebrity brand Ambassador. Diego started his career in the television industry. Valdez's natural good looks and stunning physique soon caught the attention of the fashion industry's iconic fashion brands such as Diesel, Calvin Klein, etc. After completing some landmark modeling assignments, Valdez expanded his horizon to artworks. He is the creator behind the global campaigns of renowned brands like Don Julio Tequila, Smirnoff Vodka, and many more. Valdez's social media has taken his popularity to a whole new level. In 2021, Valdez explored a new horizon in his career by venturing into the crypto space. He was picked to be a part of a group of 10 top social media stars to represent Binance. Now Valdez has expanded his presence in the digital currency world by venturing into NFT.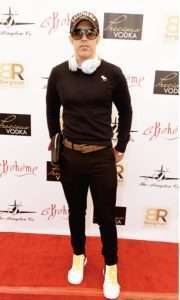 What is it going to be like with NFTs around in the next five years?
NFTs at the moment aren't well known for brands, the community, or the retail.  However, as adoption positions itself, NFTs are going to insert themselves into consumer's daily life basically.
Tickets for events, movies, etc. are going to be all NFT, and the exclusivity of collectibles will be, by that time, understood by a bigger percentage of the community.

Do you think NFTs are the future of investments? Are they really safe move? 
Depending on projects and their utility, NFTs provide a utility and are, in fact, a good investment because of their relation with different areas like gaming, metaverse, etc.
As an ambassador, how do you think people are adopting or should adopt NFTs to their daily lives?

Definitely, more educational channels are required. I'm the fact that 70% of the population, if not more, have no clue about what an NFT really is!

Amongst crypto and NFT, which one of them do you think is creating a spin-off community?
It's very easy to claim NFTs goes first because they are relatively new and trendy, but in fact, NFTs can't exist without a solid crypto platform. So promoting crypto first and NFT next is, to be the right way to educate the community 
Is Web3.0 favoring the concept of Metaverse?
Absolutely, Metaverse will take over the world, and Web3 adoption will help the metaverse on that front.
I would like to add to this Gaming. In my eyes, everything related to gaming will dominate the industry in the next five years. UFO gaming, Gala games, and NFT platforms like WAXP that's definitely the way to go on investments.
If you had wings, where would you have flown to?
Decentraland, definitely is my dreamland to fly in!
It's a wrap-up: Regardless of market conditions to have the discipline of investing at least one dollar per day in solid crypto, NFT projects will eventually change your life.
Also, feel free to check out Diego at https://www.instagram.com/realdiegovaldez/.