David Stancel studied Economics at Masaryk University in the Czech Republic and did his Master of Science in Digital Currencies at the University of Nicosia in Cyprus. He co-founded Blockchain Slovakia – an NGO focused on education, research, and policy advocacy in the area of cryptocurrencies and blockchain technology. David also lectures courses on cryptocurrencies at the Slovak University of Technology and the University of Economics in Bratislava, and he regularly speaks about cryptocurrencies at conferences, seminars, forums, universities, etc. He has been consulting multiple crypto-related startups and initiatives all over Europe, and currently serves as CTO at Fumbi Network. He writes regularly about the development of the crypto world in his newsletter – CoinStory.tech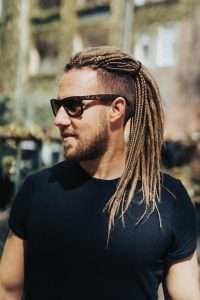 You are a cryptocurrency evangelist, right! One of the hottest careers in the crypto space. The world is always looking to hear from crypto evangelists like you! So what do you think about the current move on crypto regulations?
Yes, I started to be interested in cryptocurrencies early on, so naturally, I started to do a lot of evangelism activities around it. Over the years I did work on building various crypto projects either as a founder or consultant as well, though.

When it comes to regulations there is really a lot happening right now all over the world. While it has been clear for a long time that it is inevitable that some regulation will emerge to bridge the world of crypto with the traditional world of finance, I am concerned about the way it is done. The Biden administration has recently declared a positive stance on crypto which, of course, is good to hear but I don't want to be too optimistic as nonetheless from time to time there are various very wild proposals being heard from the Senate, and the crypto industry needs to be always watchful. 
On the European front, the situation is less optimistic. Recently, basically every second week there is some quite crucial proposal being discussed in the parliament. While the PoW ban did not pass, I am afraid it will reappear in the near future. The MiCA regulation that will provide an overarching framework for the regulation of digital assets in the EU does contain some, in my opinion, very unfortunate phrasing that raises concerns about enforcement of the law in real life. It appears that regulators do not fully understand what they are trying to regulate and that is always dangerous.

There's pretty much volatility in the crypto space. Sometimes the market is at its high and at times falls to its lowest. But what do you think the next five years will look like in the crypto market?
Volatility has been historically very much present in the crypto space. This is mainly because of the relatively small, but ever-increasing, market capitalization and the fact most of the capital in the crypto has been there for speculative purposes. The share of this capital decreases over time, though. As the whole industry gets more mature, the institutions enter the space, and the infrastructure is now ready to accommodate the next billion users. The incredible growth we have witnessed in the DeFi, NFT, and Metaverse space sets the tone for the investor', developers, and users' interest in the upcoming years. 
We are definitely going to see the merge between the crypto and traditional finance space. At the same time, DeFi will continue to grow and blend together with Metaverse platforms. This is something I am very curious to watch in the upcoming years.

"Bitcoin is a technological tour de force, said Bill Gates and again he added its technology is the key." So what's ahead for Bitcoin and how much can we depend on this exceptional digital creation?
I think Bitcoin is on its way to getting established as the global reserve asset and will have an increasingly bigger role in international trade. It won't take long before we will see some other countries adopting Bitcoin as legal tender. From the tech perspective, there are many cool developments and proposals discussed in regards to Lightning Network so I am quite sure that we are going to see lots of new adoption on this front as well.

Well, do you think blockchain is yet to solve the world's biggest problem yet? And if you have to talk about one of the best blockchain use cases, what would it be?
I think blockchain has already solved the world's biggest problem – decentralized, censorship-resistant, and state-free money. I think the area with the most impact when it comes to blockchain implementation is, unsurprisingly, finance. With blockchain, we have the chance to redesign the financial system in a new, more decentralized, secure, and fair fashion. That's pretty much a big deal. And now I don't think only of Bitcoin and Ethereum, but also the whole ecosystem around them. We need to take into account that all the DeFi infrastructure will serve as a foundational basis for what we are going to call Metaverse in the future. And while there may not be much agreement on what exactly Metvaerse will look like we know it will span both the digital and physical world as well as multiple technologies whether we talk about the level of hardware, operating systems, or applications. So while now it may seem that crypto is not being part of our everyday world, in the future it will be far more impactful than we can imagine now.

If you have to name the top two wishes from your bucket list, then what'd they be?
My wish would be that people of the world would cease to mentally hang up on the idea of stability and certainty, in any area of their life, and start by embracing the dynamic and ever-changing nature of the world. This would make them less susceptible to the populistic claims of politicians, and thus make our society converge to more productive solutions to world problems. That is my only wish 🙂
It's a wrap-up: The DeFi ecosystem will provide the foundational basis for what we are going to call the Metaverse.
Check out David's Bio: http://www.stanceldavid.sk/bio/
Website:  http://www.stanceldavid.sk
Soon-to-be-published book website: https://coinstory.tech/
Twitter: https://twitter.com/dave_stancel